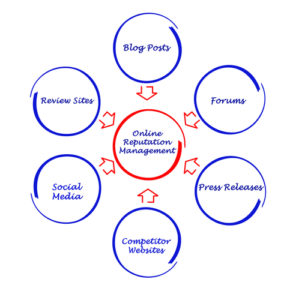 Online reputation management or ORM as it has come to be called is quite simply making sure that what is being said about a business online is watched and managed. As any business owner these days can attest, the overwhelming majority of potential customers will lookup a business online to get reviews etc. before deciding to do business with them.
I'm sure just about anyone reading this has done the same…running a quick search for "[Business Name] reviews" or "[Business Name] scam" just to see what comes up for a business which you are considering using.
Here's the problem for business owners…there are a massive number of sites where people can leave reviews and almost none of them are vetted for accuracy. Lots of sites try and keep people from leaving fake positive reviews, but very few of them verify negative reviews.
Let's take a look at just a few of the places positive & negative reviews can be left:
Google My business
FaceBook
Yelp
Judys Book
Dex Knows
Four Square
City Search
Insider Pages
Local.com
Merchant Circle
Site Jabber
Super Pages
Urban Spoon
Yellow Bot
Yellow Pages
Do you have the time and/or means to monitor the above sites and address potential negative reviews while also trying to run your business?
Then we have the other sites such as
Ripoff Report
Complaints Board
Who Scammed you
Complaints.com
Consumer Affairs
Glass Door
…where virtually anyone can leave reviews (factual or not) about your business.
The reviews left in the first set of sites are bad enough as people will often see them when looking up your company contact information online. The good news with these sites is a couple of bad reviews won't have too much of a negative impact if you have enough positive reviews to overpower them.
The reviews left in the second set of businesses can be potentially devastating as they will often show up right on the front page of Google when someone searches for your company name. The sites have so much "authority" that they can sometimes rank even ABOVE your own business for searches on your business name. They sit there right in front of potential customers often costing businesses thousands, tens of thousands, even hundreds of thousands in lost revenue if not dealt with.
These reviews may not even be legitimate. They could be left by an angry or unreasonable customer, a former employee that wants revenge for a perceived wrongdoing, or even a competitor looking for an advantage.
Ready for the worst part? Even with lawyers involved it can be virtually impossible to get reviews left at these sites removed!
That's where we come in. We are reputation management experts and we will work with you to insure that potential customers find the the information you want them to find when researching your business name. In essence we monitor and maintain your online reputation across virtually every area where a review can be left.
We insure that there are plenty of positive reviews being left for you on the sites such as Yelp, Google My Business, etc. and if you are dealing with ripoff report or review left at one of the other similar sites, we work to insure that those are taken care of as well. We likely won't be able to have them removed (as we mentioned, that's often impossible), but because of our SEO expertise, we can insure that only pages with the information about your business we want customers to find, are shown when they search for your company name.
Stop losing business! Contact us today to see what our online reputation management experts can do for you! Check us out at http://www.platinumseoservices.com/reputation-management/